Summer Colour
Adding a splash of colour and resilience to the Summer Garden
January 2022
It's that time of year again; the winds are hot and dry; the sun is scorching the earth and the garden is struggling to hold up against the constant beating from our Aussie summer. However, we have a selection of plants that once established, will hold up to almost any heat. As is always the case, we recommend taking the time and investing in soil improvement and preparation before planting, as good soil will solve 90% of the problems summer heat brings. Always ensure any reticulation you have in your garden reaches the areas you plan to establish new plants in or you can hand water easily enough as required. Once these plants are established you shouldn't need to water apart from in extreme heat conditions.
Whilst most of us won't use our gardens during the heat of the day over summer, we all love to get out early in the morning or late in the evening light to enjoy some down time in the garden. These plants will add to the atmosphere and structural element of any garden.
Agapanthus
Tried and tested, these plants are about as tough as plants get. Tolerant of long periods of very dry weather once established and tolerant of light frosts and in some cases heavy frosts. Agapanthus hold their foliage year-round making them a great addition for gardens that require some structural element or for those who wish to have a low maintenance border to garden beds, paths or pools. They hold tall spikes of beautiful flowers from late spring through to autumn. These flower heads can be used as cut flowers in the home or office and will last a few weeks in a vase. Minimal maintenance is required to keep Agapanthus looking great, very few pests and disease are known to attack them. We grow a huge range annually, including many tall, medium and dwarf forms. These include the following named varieties: Baby Pete, Bingo Blue, Bingo White, Black Pantha, Fireworks, Peter Pan, Purple Cloud, Queen Mum, Snow Ball and Sugar Plum.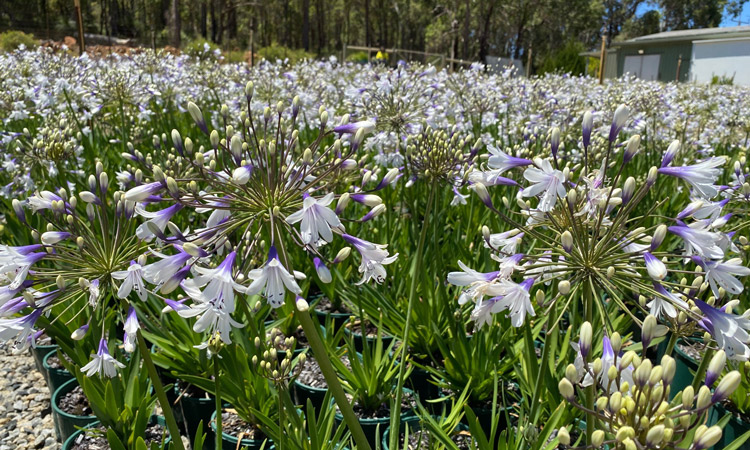 Canna 'Cannova'
A range of Canna Lilies selected for their resilience, showy flowers and vibrant foliage. Canna Lilies look great around ponds, in garden beds and in areas that are prone to holding water. They require moderate watering to get established but will survive on very little watering once established. They will however, flower for longer and look healthier if retic is available to them. There are 5 varieties in the range that have a mix of foliage and flower colours adding almost year-round contrast and interest to gardens and pots. These are Bronze Orange, Bronze Scarlet, Mango, Rose and Yellow. Flowers can be cut and used in flower arrangements and foliage can also be used to add interest to floral arrangements. Plants do best if lifted and divided every 2-4 years. This promotes new growth and increases flowering.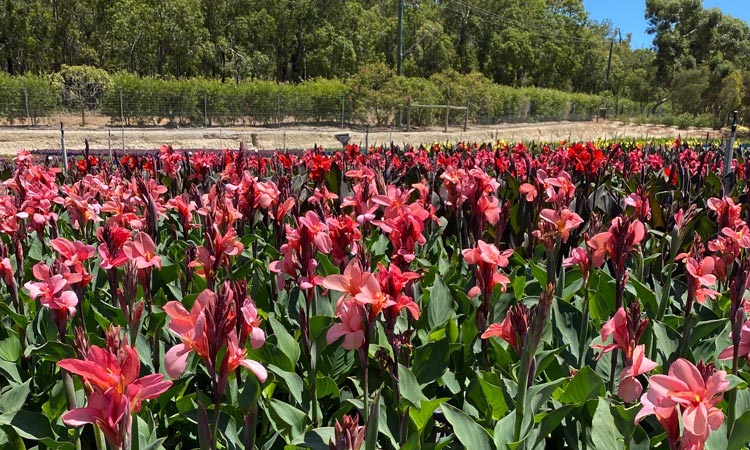 Trachelospermum (Jasmine) Flat Mat
Most will be familiar with Chinese Star Jasmine and its ability to tolerate a huge range of soils, aspects and its ability to cover and climb. Trachelospermum Flat Mat is even more compact and will not mound as much as Chinese Star Jasmine. It has a smaller leaf and a tighter growing habit, this allows it to cover the ground faster and mat soils, slopes and exposed areas quickly and densely. It will also climb with a neater appearance as long as it's given a trellis to climb up or over. A great plant for landscaping due to its low maintenance requirements. Bright, white, star shaped flowers are held in spring, summer and autumn that have a heavenly perfume. Moderate watering is required to establish, drought hardy once established. Likes full sun to part shade, will also tolerate full shade with bright light but is less likely to flower.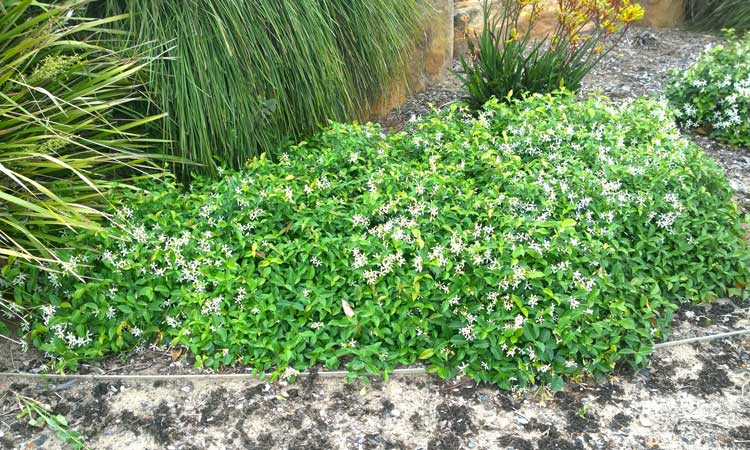 Hebe's
Hebe continue to increase in popularity, they are tough plants, especially once established. They have a multitude of foliage colour and sizes which allows them to be used in a variety of landscape applications for contrast and interest. If foliage isn't your thing then you will be pleased to know that these plants flower in varying shades of purple, pink and white. Flowering is most noticeable during spring and autumn, cones of flowers are held on the tips of new growth. During spring, when flowering is at its peak Hebe often become a mound of colour. Hebe do require a little soil preparation, adding some clay to sandy soils or clay breaker to heavy clays will allow roots to establish well and plants to thrive. Ensure retic is available at the root zone through long dry spells and that plants are in full sun to part shade. We have the following varieties available at different times of the year: Black Satin, Sunset Boulevard, Never Ending Glory, Annie's Winter Wonder, Lilac Mist, Violet Cushion, Heebie Jeebies, Inspiration, Purple Haze, Donna Mauve, Beverly Hills, Lilac Time and Turkish Delight.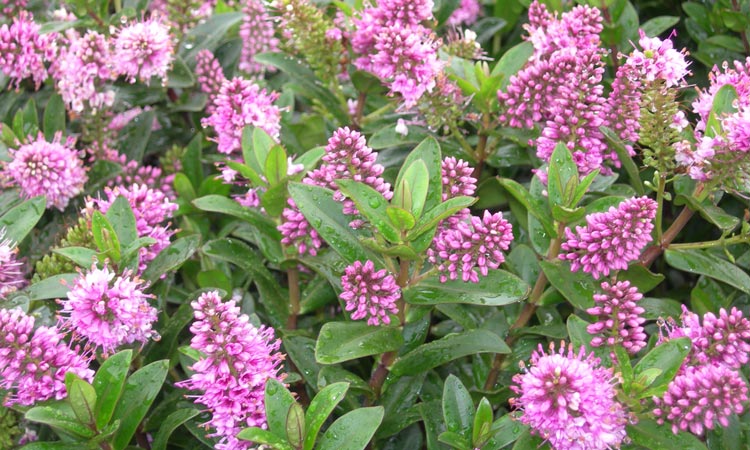 Pittosporum
Pittosporums have seen increasing popularity in landscape and residential soft scaping, they come in a huge variety of shapes, sizes and colours allowing them to fit into almost any garden/landscape setting. Tolerant of most soil types, including very coastal sandy soils these are a versatile plant that would suit most situations across the South West. Once established they are also very drought tolerant, they love full sun and will grow ok in part shade, most forms don't grow well in full shade except Miss Muffet and Cream de Mint which will grow well in shade. Varieties like Screen Between are excellent for hedging and screening, they are fast growing and tolerate pruning. Other forms like Golf Ball and Hole in One are great for adding layering to garden beds or for creating low, formal hedging in place of English box and other tight, compact, low growing plants. We grow the following varieties throughout the year: angustifolium (Jelly Bean), Cream de Mint, Golf Ball, Hole in One, Mean Screen, Miss Muffet, Screen Between, Silver Sheen and Tasman Ruffles.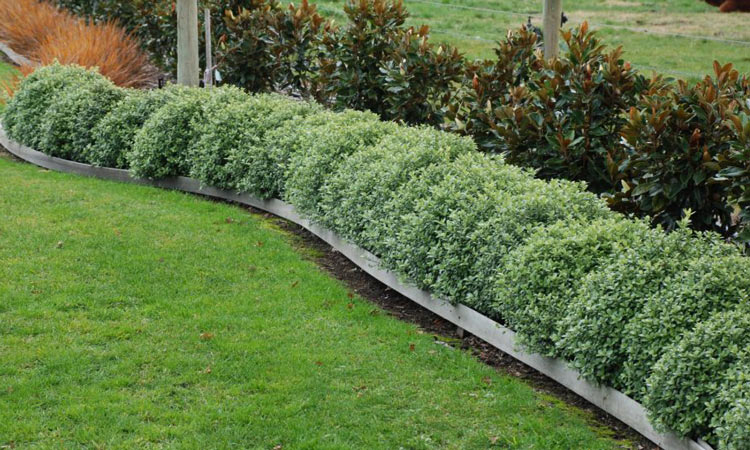 Portulaca
Portulaca have really taken off in popularity in recent years, largely due to their tough nature and love of sunny positions. They are also incredibly tolerant of sandy, coastal soils making them a great ground cover for sloping areas and sandy, hard to grow spots. They require a little watering over really hot spells but will survive on very little. If you do water they will reward you with masses of flowers throughout the spring, summer and autumn months. Modern cultivars include double flowering forms and bi-coloured forms. We grow a large range over summer months, included in this range are: Hot Shots Orange, Hot Shots Peppermint, Hot Shots Rose, Hot Shots White, Hot Shots Yellow, Hot Shots Scarlet, Mojave Red and Sea Purslane (edible - part of Tucker Bush).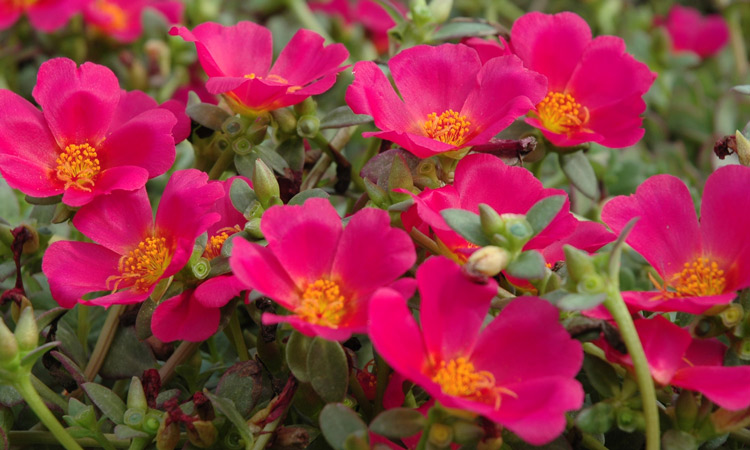 Scaevola 'Fan Flowers'
The ever-popular native fan flowers, Scaevola have undergone a huge amount of breeding and have been incredibly successful in both home gardens and larger landscapes. They now come in a variety of colours, forms and with a great degree of variation in growth habits. From shrubby bush types like Spinescens (Maroon Bush) to varieties that lie incredibly flat to the ground like Aussie Crawl and White Carpet. We grow a range of colours from shades of white through to shades of purple and blue with Purple Fanfare and Bondi Blue being our two most popular sellers. Scaevola love free draining soil and once established don't require a lot of water. They flower for most of the year and benefit from a light trim once or twice a year to keep them compact and full. We grow the following varieties at different times of the year: Aussie Crawl, Aussie Salute, Aussie Spirit, Bondi Blue, Bondi White, Fan Dancer, Just Classy, Mauve Clusters, Purple Fanfare, White Carpet and White Wonder.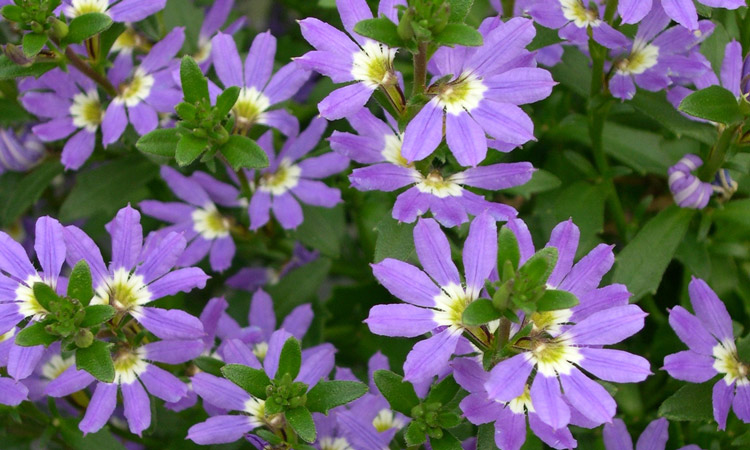 Sedum
Sedums are versatile, tough, colourful plants that come in a huge range of colours, shapes and sizes. There have been over 600 different species of Sedum described globally and more are being added annually. We grow a range of sedums, most of which are best suited to full sun or part shade positions in the garden, baskets or pots. Our most popular range is the blob range, so called because of their ground hugging, compact habit. These come in a variety of colours including green, Chocolate, gold, silver and purple. We also have a range of sedums which grow a little taller and a few that trail like the Donkey Tail sedum (best planted in a basket). These plants require minimal watering or maintenance and add a splash of colour to often drab areas of the garden. We grow the following throughout the year: Chocolate Blob, Donkey Tail, Gold Blob, Green Blob, Rainbow Blob, Lime Twister, Little Missy, Ogon, Plum Dazzled, Purple Blob, Silver Blob, Vera Jameson, rubrotinctum and Wildfire.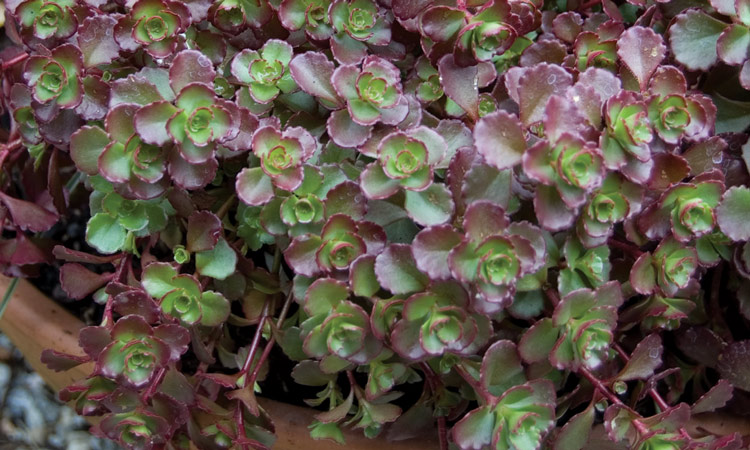 If you would like any further information on any of the plants listed above please visit our website www.domusnursery.com.au or if you would like to purchase any of these please visit or contact your local Garden Centre or Hardware store. The above plants will be available Summer 2022 pending supply and weather conditions.