Domus Nursery Environmental, Social and Governance Goals (ESG's)
At Domus Nursery we are passionate about the environment we get to operate within and believe that we should be doing everything we can to reduce our impact on it, both directly and indirectly. To date we have implemented many sustainable practices using both technology and best industry practices. Below we cover a range of what we do to continually improve the efficiency of our business whilst reducing our impact. This means that you, as our customer, can be sure you are buying a plant that has had minimal impact on the local environment.
Staffing - We love our staff, we couldn't do what we do without them.
The very nature of our business requires hands on staffing at most levels, automation is creeping in but it still can't do the tasks performed by staff across the nursery.
We employ local. Our preference is to employ staff within a 30min drive where possible. This ensures staff are employed locally and spend locally.
We value our staff, we provide high quality lunch rooms, toilets, water fountain facilities and where possible heating and cooling to make working more comfortable.
We reward our staff, they are vital to our business so we offer further education and training, and staff social events.
Our staff have a say. We listen to and encourage staff to voice concerns, opinions, ideas and encourage them to help others around them.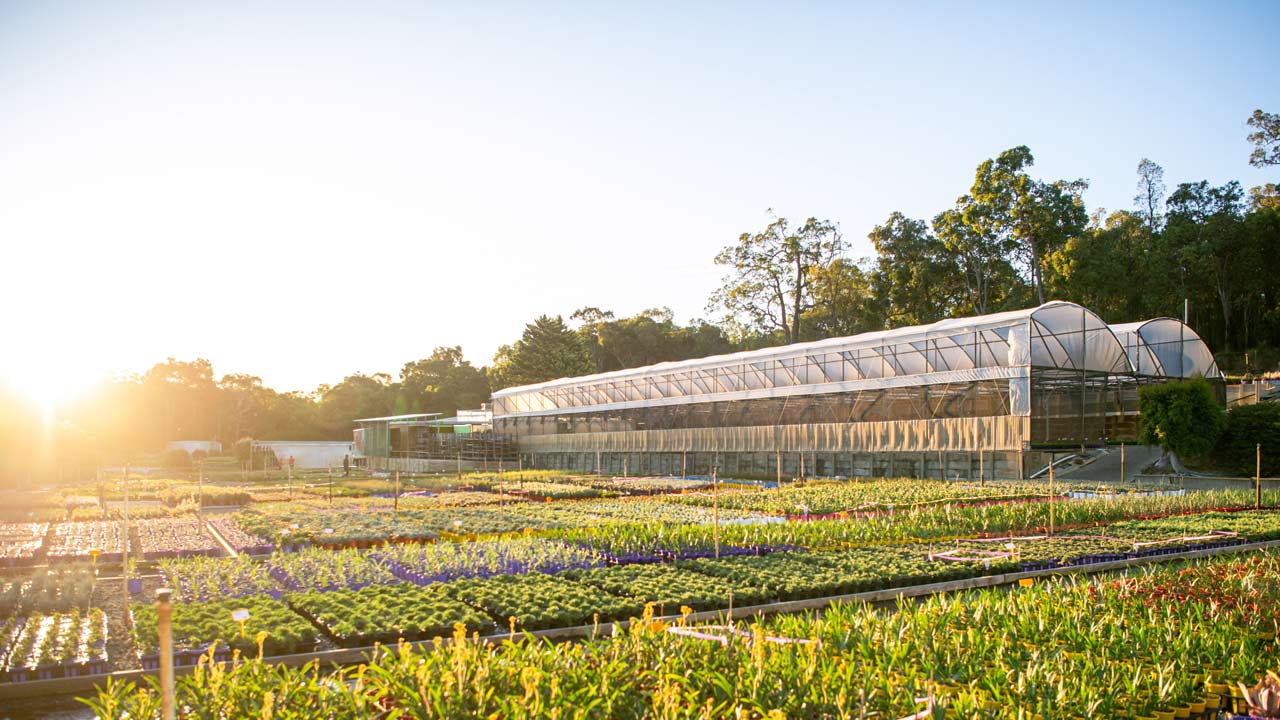 Water - our key resource after staff.
Due to the nature of our location on a shallow aquifer and upstream of a national park we have spent many years investing in water management on site. Here is how we use our water:
Scheme water is used for staff amenities, this ensures we have safe, treated water for staff to drink and use on site.
Irrigation water for use on our plants:

Most of our water is sourced from bores situated on site - these are powered during daylight hours by solar energy.
We capture, store and treat rainfall runoff during winter months and seasonal rainfall events
All runoff water is fast sand filtered and treated with Calcium hypocholorite for a minimum 1 hour contact time at 3-5ppm to kill pathogens - this process ensures water is safe to re-use.
Modern, energy efficient Grundfos pumps are used across the site, including a 3 pump variable speed system covering approximately 80% of the nursery

Property water release

We allow water to leave site during high rainfall events, usually during winter.
Minimal water is released over summer months
Nutrient levels in runoff water have been tested and are very low, demonstrating the benefits of using Osmocote controlled release fertiliser. No fertigation is used within the nursery.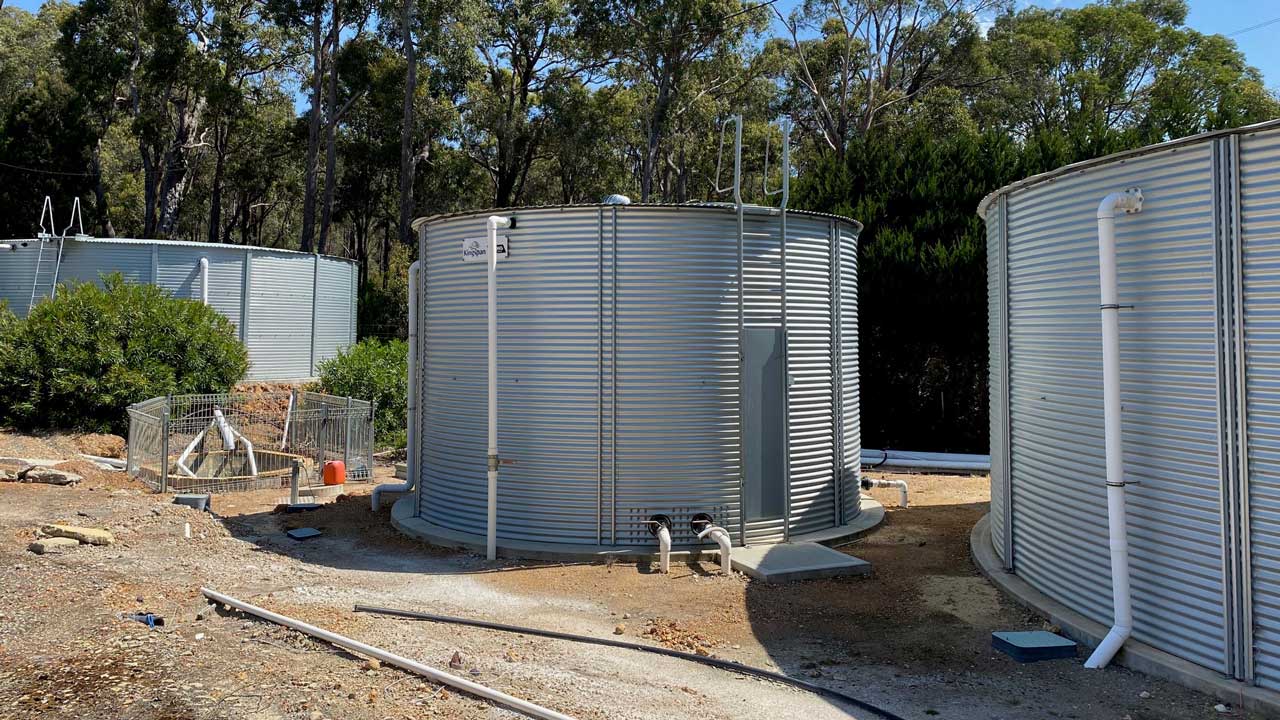 Energy - Where it comes from matters.
For a number of years, we have been looking at ways to improve our energy usage across the site, this has included looking to technology to help drive a course away from fossil fuel intensive inputs.
We currently have over 45kw of solar panels across our site. This is split across multiple systems on site.

During 2022 we generated nearly 30% of all the power used on site through our solar systems
We exported over 17mwh back into the grid.

There are plans to add battery storage facilities in the near future to allow us to extend the benefit of our solar generation into the evening.
Where required we utilise LPG for some heating and forklifts
Most vehicles on site are lithium electric, these reduce noise pollution locally whilst also being zero carbon at point of use. They are charged overnight generally on off-peak power.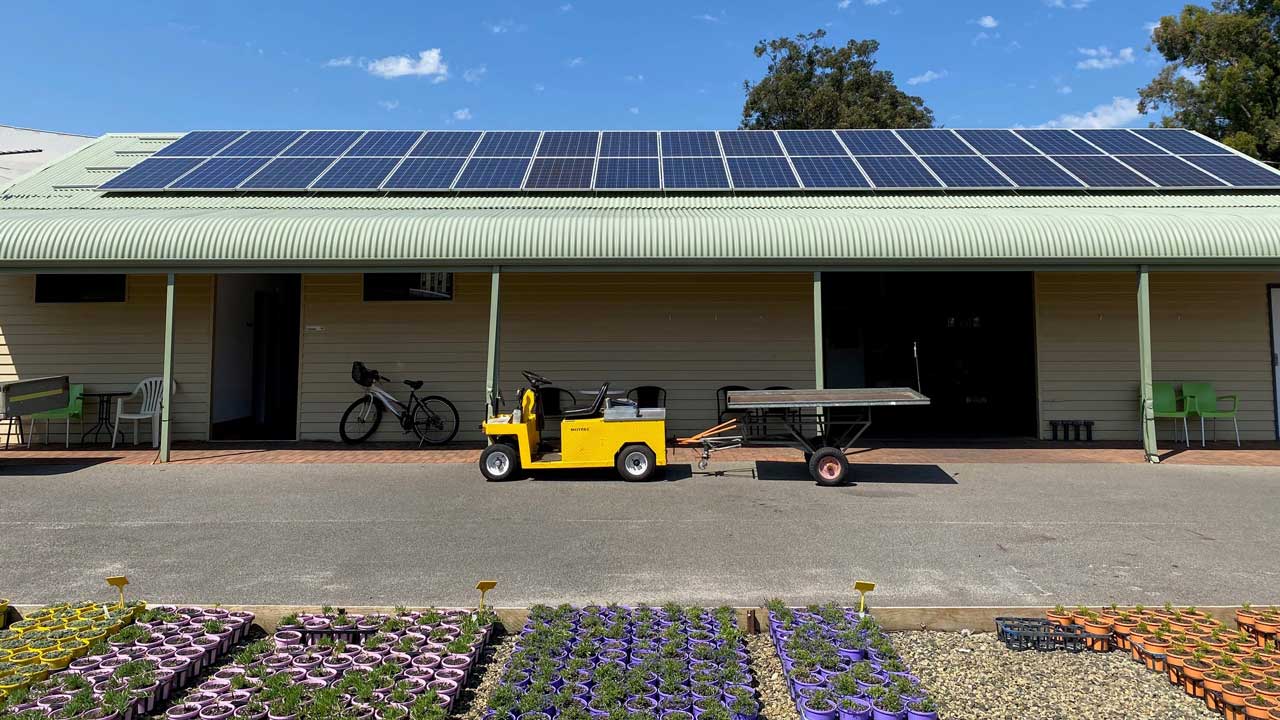 Waste - reducing waste streams is important to us.
As an industry that relies heavily on plastic for containers and labelling of plants we have always looked for ways to reduce raw material input into the system. There are more products coming to market that are making this happen.
Cardboard - we recycle all cardboard used on site, this is collected by Instant Waste.
Polystyrene trays - These get collected by Garden City Plastics (GCP) who run a recycling program. They will be turned back into 'new' trays.
Polypropylene (PP5)

Clean, stacked pots are collected and recycled by GCP
Tubes and other assorted trays are processed by Claw Environmental in Perth.

Old potting media is generally used around the site to improve old garden beds and paddocks. It is never wasted.
We have been working with customers and suppliers to increase our use of plastic pots made from recycled material. By 2025 we aim to have 50% recycled plastic content in our pots.
Inputs - Our inputs are vital
We are a resource dependent industry, relying on various supply chains for our raw materials, products and plants.
All of our pots are Australian made, they are source from Australian companies that manufacture the product here, in Australia.
Labels and pots are made from PP5 plastic, there are recycling programs being setup to recycle these.
Pinebark - we use this as a base for our potting mix. It is sustainably sourced from plantation pines.
We do not use peat in any form in our potting mix.
We use up to 15% sustainably source coconut coir in our potting mix to help retain moisture and nutrients.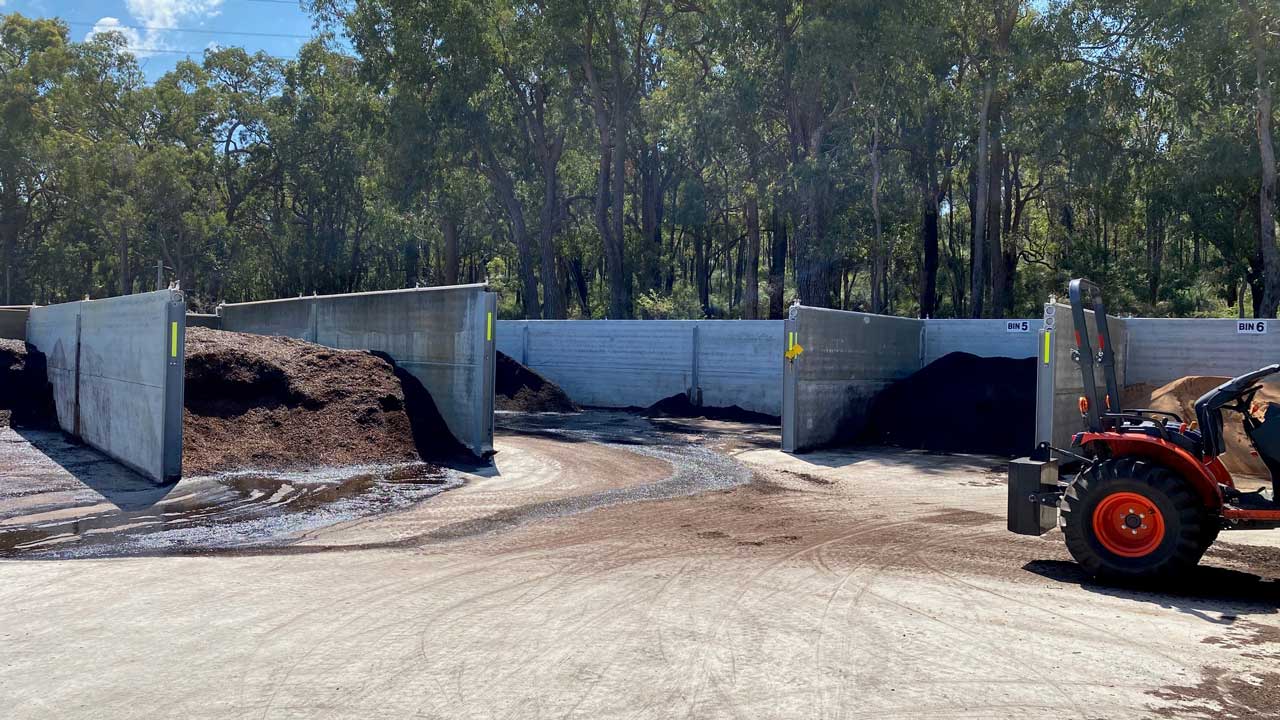 Future
We will continue to strive for a better environment for our staff, look to technology to help drive our business forward in a more sustainable way and will continue to invest in the local economy. We believe the future holds many challenges but are hopeful that we can meet these head on and will continue being a leading industry member.