The Redlove Era Apple is now
available in Western Australia
April 2017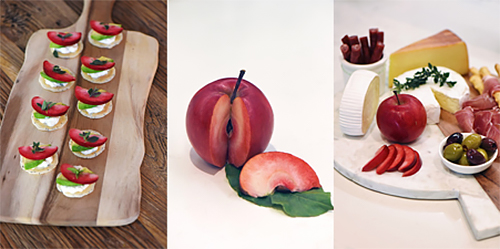 The Redlove Era Apple is now available in Western Australia. Like Adam and Eve, lovers and the apple-curious alike will be tempted by these delicious and nutritious beauties.
Redloves are a new series of hybrid fruit, bred by Markus Kobelt of Swiss fruit nursery, Lubera. The nursery's own website describes them as a "new type of fruit that is just as distinguishable from the apple as nectarines and peaches". From the outside, Redloves look just like ordinary apples, with firm skin and a healthy crimson glow. But just one bite reveals a world of difference
This all natural, non-GM quirk is inherited from a sour, red-fleshed species of apple found in the wilds of Kazakhstan. After 20 years of experimental crossbreeding, involving many varieties of common, unusual, sweet and plain apples, Kobelt finally arrived at this new generation of fruit - "the first good-tasting, red-fleshed apple".
But it's not just their intense red flesh that makes the Redloves special. They come naturally supercharged with antioxidants, boasting 30-40% more than the average apple. They're also rich in anthocyanins, a red flavonoid also found in blueberries, blackcurrants, beetroot and red cabbage, adding extraordinary twists of flavour and fragrance.
Sweet and tart with hints of berry, these apples are both tasty and decorative. Strudels, pies, cakes and fresh fruit platters come to life with a burst of Redlove colour! Best of all, they retain their redness when cooked, and don't turn brown when cut.
Bring a touch of Eden to your garden with unusual red buds and bright pink blooms throughout the flowering season - another delightful Redlove quirk. These later develop into large, firm and scab-resistant fruit when cross-pollinated with another apple cultivar (like Pink Lady or Granny Smith). In the Autumn, the Redlove foliage turns attractive shades of red and yellow.
These hardy trees grow strong and relatively upright, but are also suitable for espalier. They can reach up to 2m in height (or 3m espalier) with a crown diameter of 1-2m. Plant them in full sun or part shade and keep the soil moist and mulched throughout the year. Redloves have medium to high chill requirements, ideal for most cities throughout Australia.