Autumn New Releases
April 2020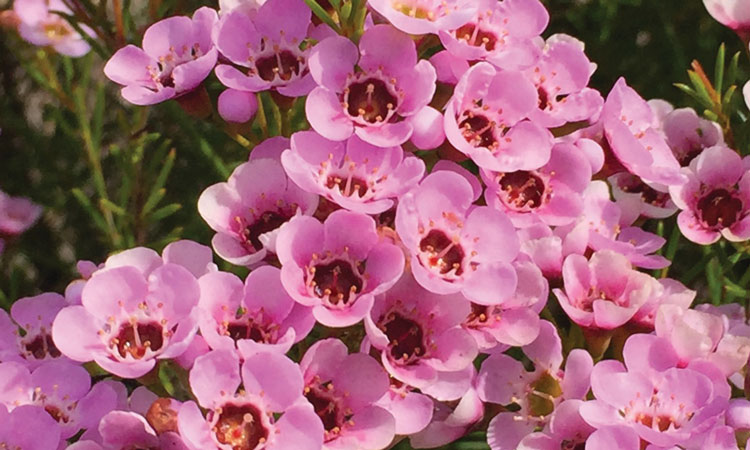 Chamelaucium 'Kerryn' - A medium rounded shrub to 2m with the trademark fine green, foliage. It has long stems of vibrant dark pink flowers perfect for cutting and enjoying indoors that appear in late winter lasting right through 'til the end of spring creating an attractive colourful display. The later flowering of Kerryn means you'll be enjoying wax flowers for longer.
It prefers a sunny to partly shaded position in free draining soils.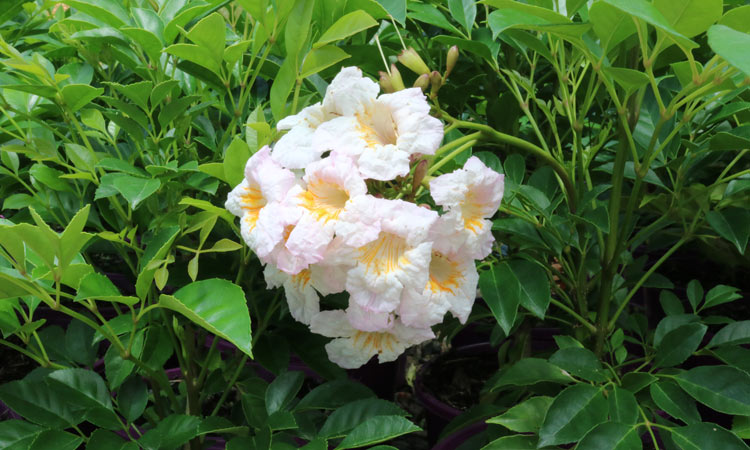 Radermachera 'Everlasting Beauty' - An attractive, glossy leaved shrub to 3m. In late summer through to early autumn this beauty boasts clusters of slightly fragrant, trumpet shaped flowers of pale pink/white with gold stamens. Everlasting Beauty can be kept as a neat and tidy hedge and stand alone as a feature plant.
We recommend pruning after flowering to keep it a nice shape.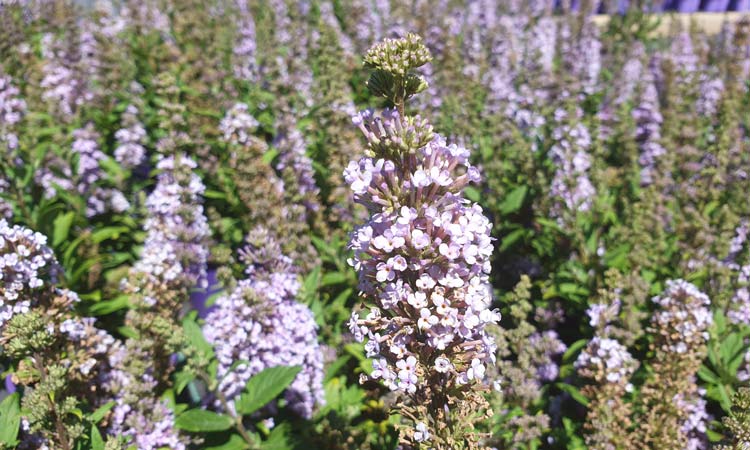 Buddleja 'High Five Purple' - High Five Purple is dwarf growing shrub to 80cm with strong, upright stems. It has a long lasting display of stunning, fragrant lavender-violet coloured flower spikes that are loved and visited by birds, bees and butterflies from summer through to early autumn.
This quick to grow plant prefers a sunny position in well drained soil and once established is heat and drought hardy.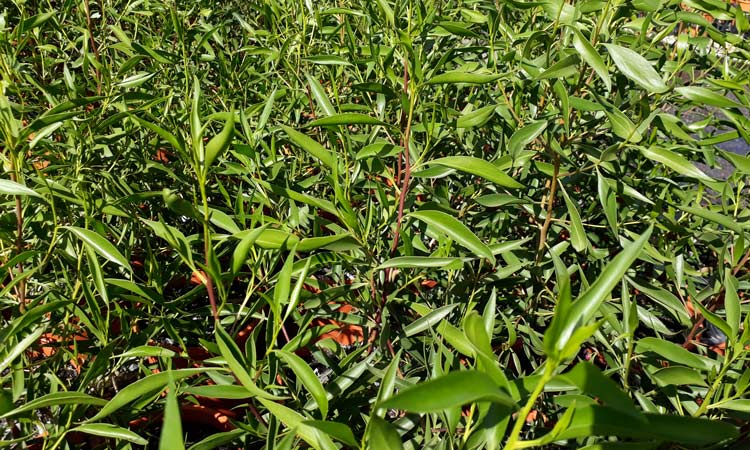 Myoporum montanum Tucker Bush 'Water Bush' - The Water Bush is a small tree great for parks, reserves and as use as a windbreak, proving very hardy once established. The pay load on this Tucker Bush is the small white flowers in summer that develop into deep red-purple berries resembling mini Lilly Pilly fruit that are said to be salty-sweet and can be eaten both raw and cooked.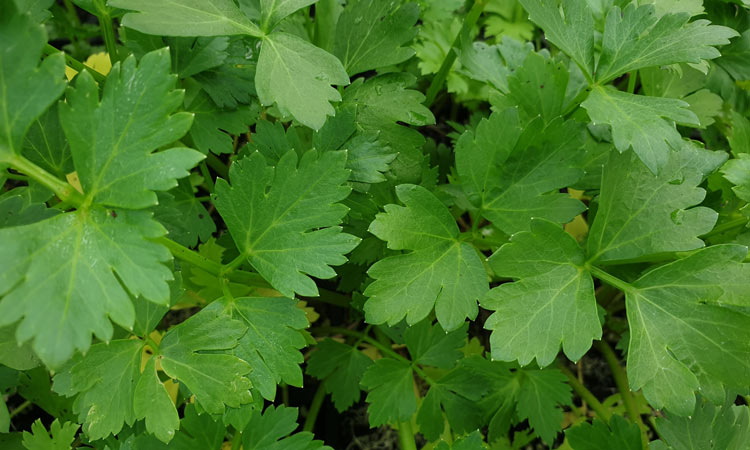 Apium annuum Tucker Bush 'Sea Celery' - Sea Celery is similar in appearance and texture to regular celery shoots, with a hint of 'ocean' flavour. Harvest the stems as you would harvest regular celery and use as a garnish or cooked in with soups, chicken and seafood dishes. For best results with sea celery, plant in pots or in a well drained position in full sun.
Tucker Bush Safety: Whether using our commercially grown Tucker Bush plants, or sourcing your own fruit & plant material from the wild caution should be exercised. Fruit and any edible plant material may require specific preparation to be safely eaten. Please read our plant labels and also consult the Tucker Bush website for specific plant information.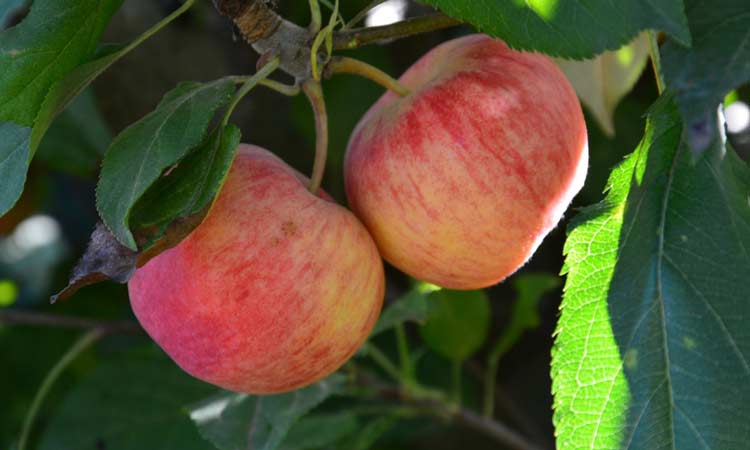 Malus 'Bite Size' - Bite Size apples are the new variety released by the Little Apple Co. These bite sized beauties are small, sweet and crunchy and after flowering in summer are ready to pick in March. The small tree to 3m is great for small spaces, grows well in containers and for the adventurous, is perfect for espalier. To ensure pollination companion plant with varieties like Granny Smith, crab apple and Sweet Cheeks.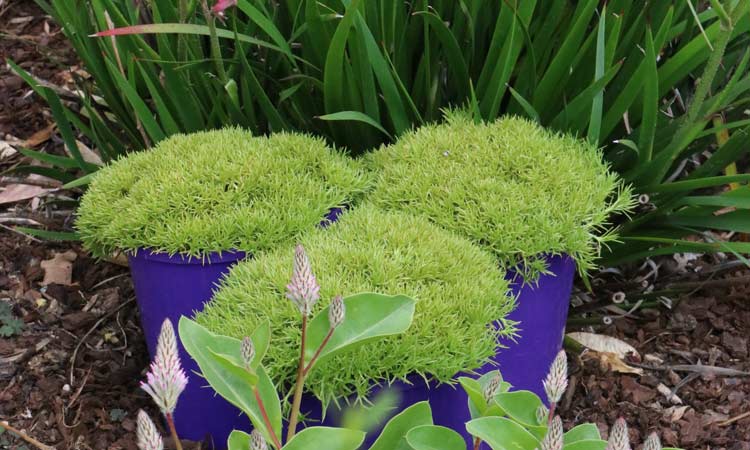 Scleranthus biflorus 'Lime Lava' - A mounding, moss-like ground cover with fine, brilliant green foliage. This ground hugging plant creates great visual effect as it creeps over logs and cascades down pots. Height to 15cm, spread to 80cm.