Spring Plants

September 2023
Spring is about to burst into life across Perth and the South West, the bush will be in full bloom and gardens are coming alive. Spring is a great time to get into the garden, tackle long awaited projects and to get plants in the soil before summer hits. It's a good chance to see what's really taken a hold over winter in the garden and to make some decisions about what to put in to add colour for spring and summer. We have an ever-growing range of plants on offer at Domus Nursery and below we outline some of our favourites that are available currently or will be soon and how you can use them to add structure, colour, contrast and privacy to your garden or landscape. We hope this article inspires you to add some colour to the garden and spend some time outside this season. If you need any further information on any of the plants listed below please ask a member of our team when placing an order. If you are not a wholesale customer, please speak to a horticulturalist at your nearest Garden Centre or hardware store for more information.
Echeveria Madison
Unique in its appearance, Echeveria Madison is a stunning new cultivar. It holds a large, open rosette of pale blue leaves. New growth is blue/grey in colour and then blushes pink once matured. During late winter and early spring tall flower spikes emerge, these hold bright yellow flowers which add seasonal interest. A good plant for pots, waterwise gardens and for adding contrast to garden beds. Plant in full sun to part shade and water well through the first summer. Feed with a slow release fertiliser in autumn and mulch with gravel or pine bark. Will grow to 40cm across and 20cm high.

Echeveria 'Madison'
Boronia Blue Waves
An attractive shrub that has deep green, aromatic foliage, Blue Waves features delicate pale mauve/blue flowers through spring months. Bees and beneficial insects are drawn to the flowers making this a good addition to insect friendly gardens. Blue Waves is best planted in a shaded spot in the garden, Boronia are not fans of full summer sun and like to have their roots kept cool. They also perform well in pots. During winter months they can be put out in full sun and once flowering has finished moved into a more sheltered position on a patio or in the garden. Plant in free draining soils that hold moisture, this will ensure roots don't rot but won't dry out either. Trim after flowering and feed with a slow release native fertiliser.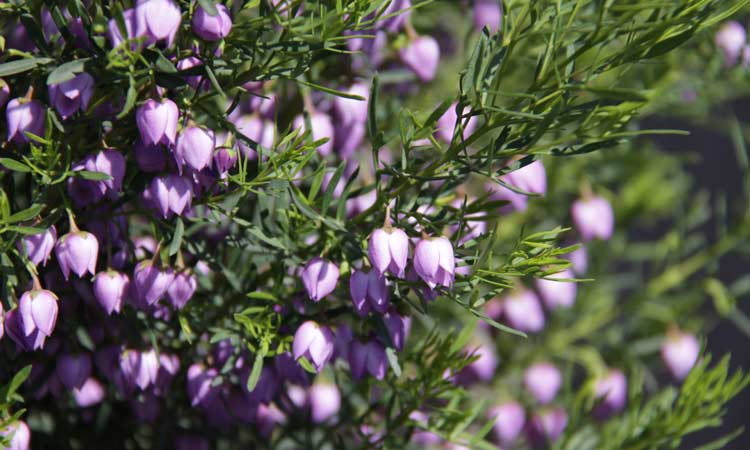 Boronia Blue Waves

Callistemon Hot Pink
A stunning compact Callistemon that is both tough and resilient. This is a great plant for small hedges, it can be pruned hard and will remain full and compact. It also makes a great medium sized shrub for garden beds. During spring months, it has the most striking pink flowers, these are held en masse and are impossible to miss. This plant looks great when planted with silver native plants, match with Eucalyptus Silver Princess or Acacia Stirling Silver to make foliage and flowers pop. Bees, beneficial insects and nectar loving birds are drawn to these flowers making hot pink a pollinator hub. Hot Pink will grow to 1m high by 1.4m wide and loves a sunny to part shaded spot in the garden. Keep well watered for the first 12 months in the ground and then apply water over long dry periods to keep plants looking healthy and to improve resilience. Mulch in summer to reduce heat stress to root zone.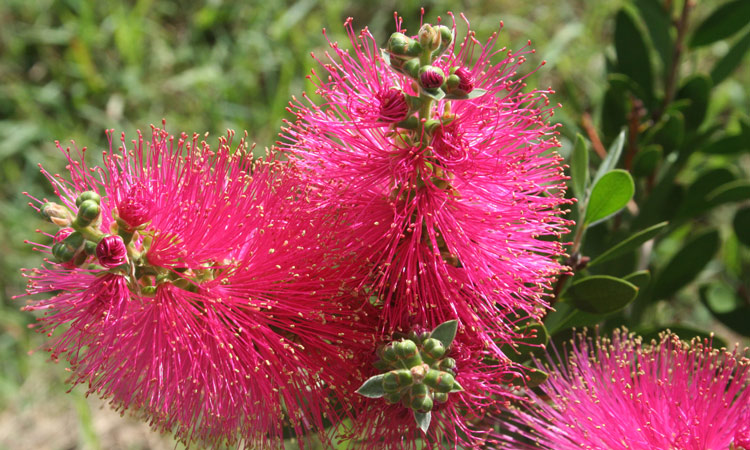 Callistemon Hot Pink

Digitalis Pink Panther
A striking perennial fox glove that holds stunning spires of pink flowers during late winter and spring. This is a great plant for cottage style gardens and for those who like to dabble in a bit of container gardening to soften patios and alfresco areas. Digitalis do need reticulation and in Perth always do best in morning sun with midday and afternoon shade. Improve your soil with clay and organic matter and then mulch, this will ensure heat stress to plants is reduced. Apply a liquid feed during flowering period and a slow release fertiliser to keep plants looking full and healthy. Cut back dead flowers after flowering. Will grow to 50cm tall by 50cm wide, flower spikes will sit above foliage.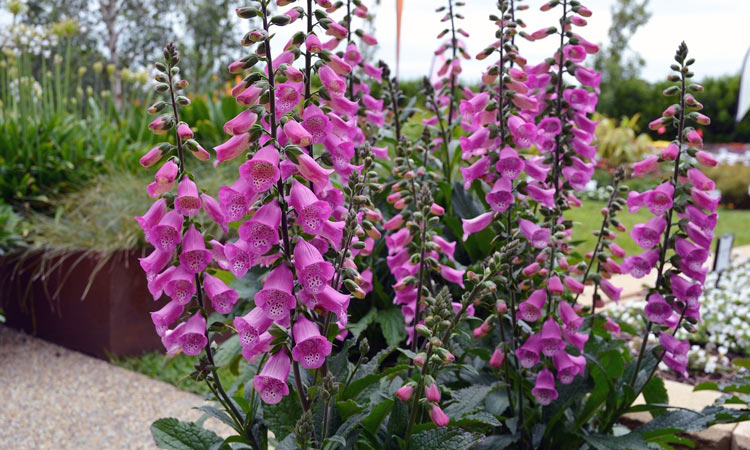 Digitalis Pink Panther
Grevillea Silver Dawn
Grevillea Silver Dawn is a hybrid Grevillea that came about through a breeding program on the East Coast. It is unusual in its appearance as it has striking silver green foliage year round and a low growing, spreading habit. Flowers are red in appearance and are held in clusters on the ends of branches. These are a magnet to small nectar loving birds and bees, bringing insects into your garden. Flowers are held from early Autumn right through to late spring with spot flowering through summer months. This plant is suited to road verges, roundabouts, native gardens and waterwise gardens including rain gardens. It can be used as living mulch to help supress weeds and to reduce heat stress to soils. It will grow to 1.5m wide and 40cm high.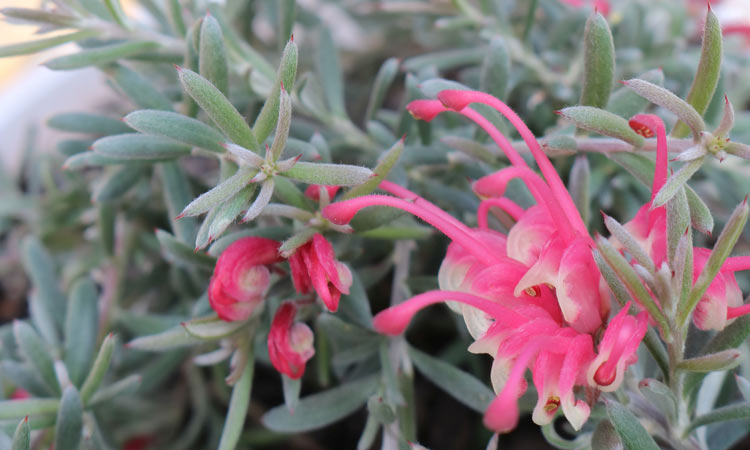 Grevillea Silver Dawn
Leptospermum Lipstick
This plant's been around in gardens and landscapes for a while now, it is increasingly popular due to its drought tolerance and frost hardiness. During spring masses of bright pink flowers make this plant jump out of the landscape It's a magnet for bees and hover flies which in turn bring birds and other mammals into the garden. Lipstick will grow to 1.5m high and 1.5m across, it is tolerant of most soil types and is fast growing. Plant in full sun and mulch well to protect the root zone from summer heat. A light prune once or twice a year will help keep plants full and encourage new growth, flowers will appear on old growth so don't prune back too hard or you risk cutting out next spring's flowers.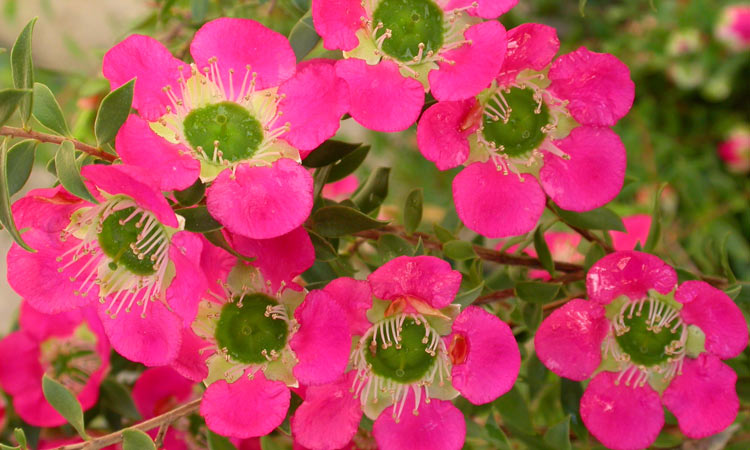 Leptospermum Lipstick
Nandina - Magical Lemon Lime
This stunning selection is unique in its foliage colour and appearance. Lime green foliage appears in Spring and Autumn fading to deep green over time. Tolerant of damp soils, fairly dry shade (once established) and morning sun. Nandina always perform best in improved soil, add clay and organic matter to coastal sands and just organic matter to clay. We think this plant presents best in pots, they can be moved out into full winter sun and moved under shade over summer. They fill a medium pot nicely, requiring no maintenance other than a twice-yearly feed with a slow release fertiliser.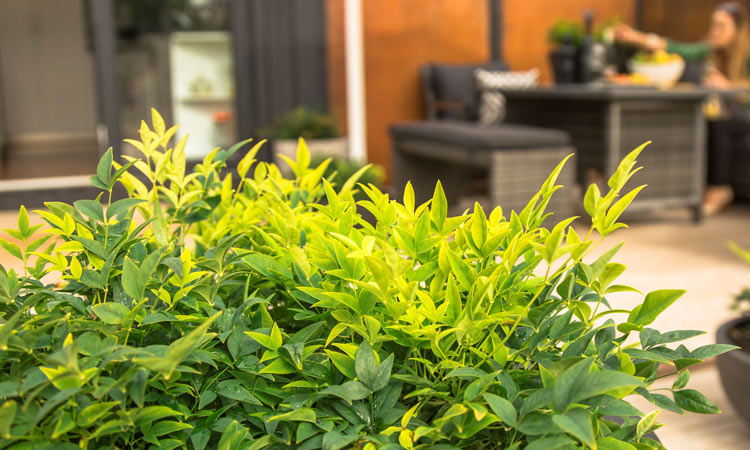 Nandina 'Magical Lemon Lime'
Rhaphiolepis Hot Tips
Hot Tips is a showy evergreen shrub with illuminating foliage which becomes especially evident during winter and spring when new growth darkens to a deep ruby orange in colour. During spring masses of white flowers are held for a number of weeks. A great plant for coastal suburbs as it's incredibly salt and drought tolerant. A slow growing shrub that makes a great hedge, leaves are glossy in appearance and waxy to the touch. An easy-care plant that will tolerate full sun to part shade and exposed positions in the garden. Grows to 1m high by 1m wide, mulch in summer to keep roots cool.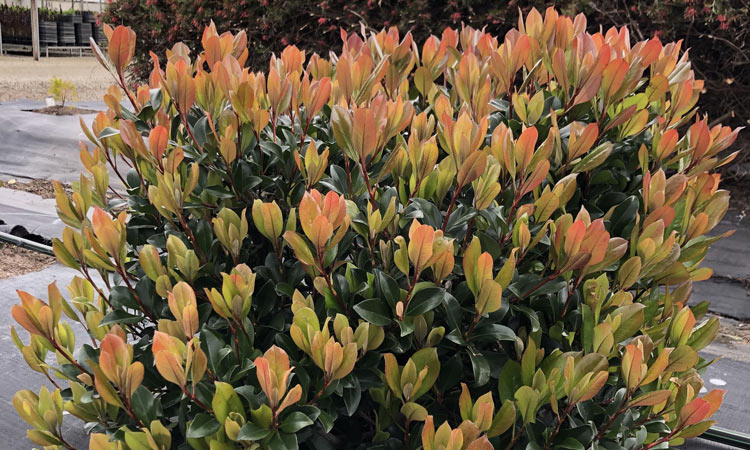 Rhaphiolepis Hot Tips

Syzygium australe Pinnacle 'AATS'
A standout plant for hedging, PinnacleTM Syzygium is robust, compact, upright and hardy. Growing 50cm a year in the right conditions it makes a quick screen and dense hedge. In summer they are covered in masses of white flowers which are a bee magnet. Drought tolerant once established, they require watering in for a couple of summers and will benefit from a once or twice weekly watering during dry spells thereafter. Once they have reached your desired height you can trim the top of Pinnacle to stop it growing any taller. Plant these about 50cm apart for a quick filling hedge and trim as required. Syzygium will grow best in full sun to part shade and respond well to regular feeding during their growing season.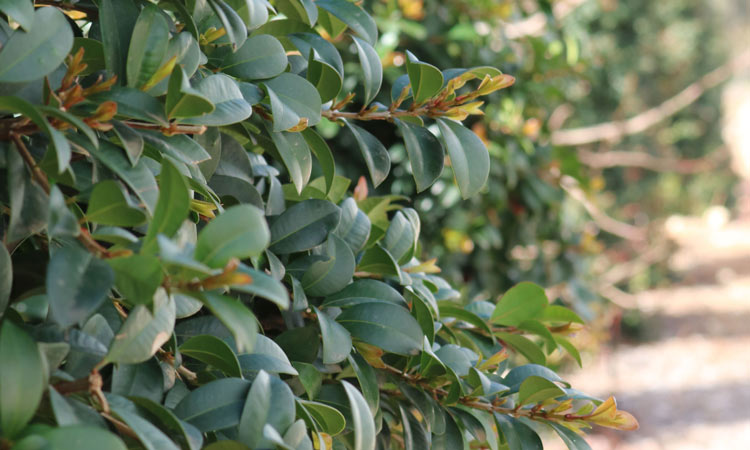 Syzygium australe Pinnacle 'AATS'

If you would like any further information on any of the plants listed above please visit our website www.domusnursery.com.au or if you would like to purchase any of these please visit or contact your local Garden Centre or Hardware store. The above plants will be available Spring 2023 pending supply and weather conditions.